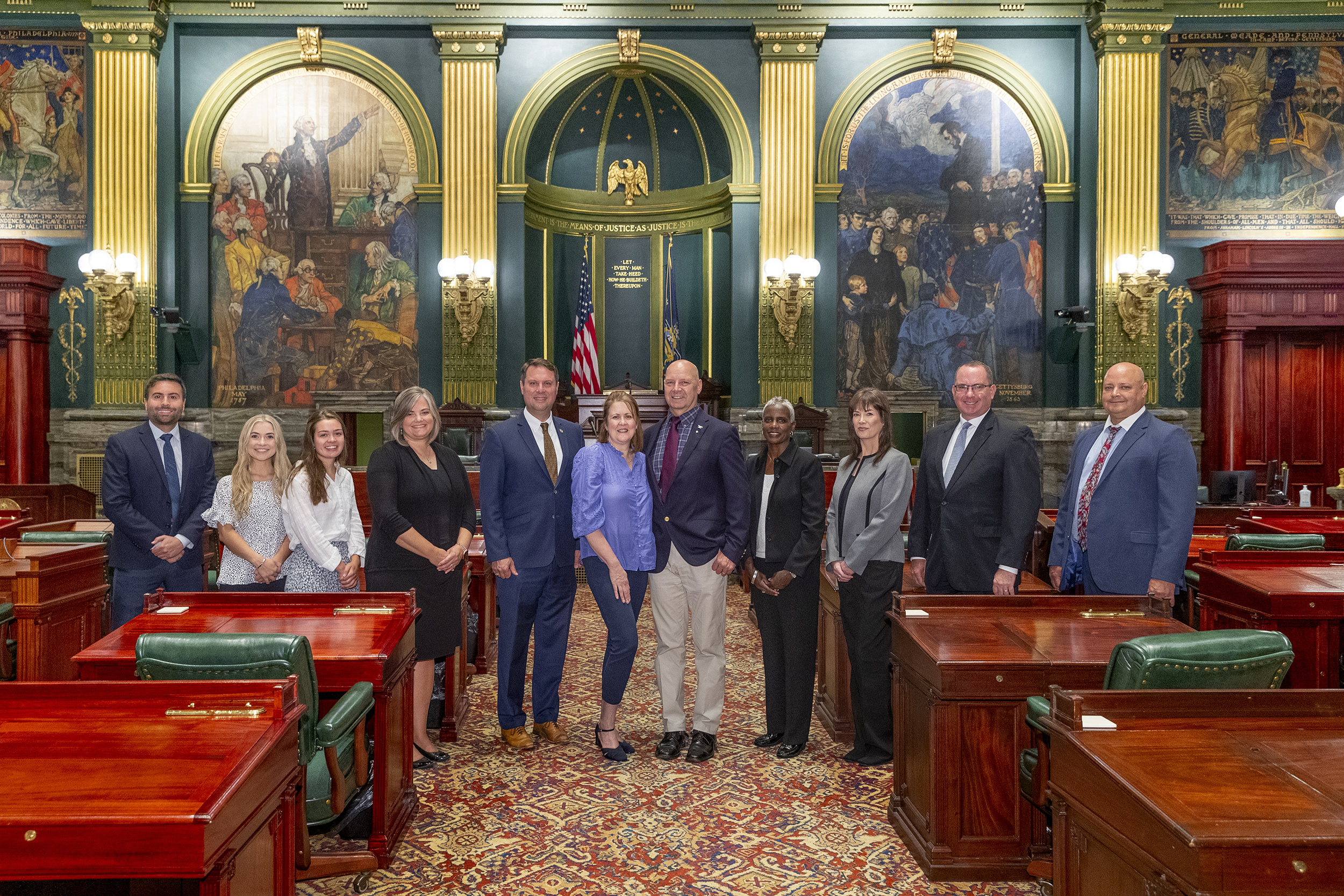 HARRISBURG OFFICE
Daniel Cox – Chief of Staff
Joshua Herman – Legislative Director
Josh is a lifelong resident of Pennsylvania and a graduate of Temple University.
He is the current Legislative Director for Senator Mastriano and oversees all aspects of the legislative and policy process. Last Session, he was proud to work on legislation signed into law that improves how Pennsylvania tracks and responds to drug overdoses. He's also proud of helping to pass a new law that protects first responders and tow truck operators while they are responding to roadside incidents.
Before joining Senator Mastriano, Josh served in the Trump Administration from 2017-2021 as a policy advisor at the Department of Homeland Security where he worked on issues pertaining to border security, immigration, and national security.
During the 2016 election cycle, he worked as Regional Field Director for the Republican Party of Pennsylvania and played a crucial role in mobilizing grassroots support for President Trump and other GOP candidates on the ballot that year.
Nathan Silcox – Executive Director of the Veterans Affairs and Emergency Preparedness Committee
Nate has over 25 years of experience in public policy at the state and local levels. He currently serves as Executive Director of the PA Senate Veterans Affairs & Emergency Preparedness Committee, which has oversight of Fire, EMS, Emergency Management, Military and Veterans Affairs issues.
During his time in the Senate, Nate has had a hand in passing over 100 laws, including re-organizing the State Fire Commissioner's Office and allowing municipalities to establish tax credits for first responders, establishing the Military & Family Education Program and strengthening the National Guard Educational Assistance Program, permitting counties to establish Regional Police Booking Centers, expanding the Local Government Capital Project Loan Fund, permitting students with severe allergies to carry EpiPens to schools, authorizing Respite Care programs for senior citizens, and Chloe's Law – protecting children with Down Syndrome.
Nate started his career as a member of Governor Tom Ridge's team in the Department of Education helping to establish academic standards, ensure school safety, and provide for additional educational opportunities.
Felicia Wallace – Executive Assistant/Legislative Assistant
Felicia joined Senator Mastriano's team in March 2021. She brings a wealth of knowledge from a grassroots and legislative perspective. Prior to joining the Senate, she was the Operations Coordinator for Habitat for Humanity of Franklin County. She has also worked for several national companies in the areas of safety, risk management, and insurance; and served on various ad hoc committees and task forces responsible for regulatory compliance and the advancement of program initiatives.
An Ordained Evangelist and Christian Podcast Host, Felicia serves in ministry with her husband, Pastor Melvin Wallace, at the Light of the World Church of God in Hagerstown, MD. They have one daughter, Rayna. Her Past-time Favorites include: Writing and Photography as she is current working on a memoir of her father and loves "capturing the moment" in pictures.
Doug Zubeck – Constituent Outreach Specialist
Doug has served the legislature in various capacities over the past 25 years, most recently as a constituent outreach specialist for Senator Chuck McIlhinney.
He has been with the Senate Republican Caucus since 2005.
FRANKLIN COUNTY OFFICE
Ruth Ebersole – Field Representative/Event Coordinator
Ruth joined Senator Mastriano's team in June of 2019 as a field representative and event coordinator. She brings to the 33rd District more than 25 years of experience in public relations and event planning.
Ruth and her husband Jeff, have eight wonderful children, two sons-in-law, and two adorable grandchildren. In addition to her duties in the 33rd District, Ruth has homeschooled her children for the past 20 years. Currently, four of her children have graduated and are flourishing in their chosen paths.
Over the years, Ruth has enjoyed volunteering as a VBS Director, Jr. and Sr. Youth Leader, special events coordinator and as a committee member for various organizations. Ruth and her husband, Jeff, are also on their Church Leadership Team.
Ruthie Dunlap – Field Representative
Ruthie joined Team Mastriano as an intern in July 2021, and as a full-time employee in October 2021.
She is enjoying helping constituents in the 33rd Senate District.
ADAMS COUNTY OFFICE
Melissa Cruys – District Director
Melissa joined Senator Mastriano's team as a District Director during the summer of 2023. She spent several years serving as Partnership Manager for the Adams County Travel Council and Tourism Bureau.
After fostering many relationships among local business leaders, this inspired her to continue serving the community by becoming a local business owner, herself. With community relations at the forefront of her inspiration, Melissa co-founded Pennsylvania Bike Rally for Freedom in June of 2020 and is an influential member of the riding community, connecting Veterans and locals to charity efforts across Pennsylvania.