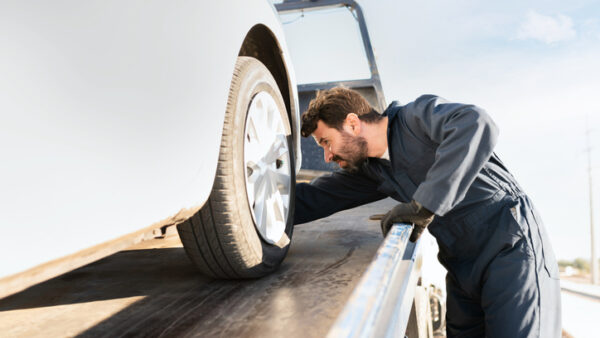 HARRISBURG – With the busy Memorial Day travel weekend approaching, Sen. Doug Mastriano (R-33), Pennsylvania Turnpike officials and tow truck drivers on Monday held an event at the state Capitol to raise awareness about a new state law to protect roadside assistance workers.
Dressed in a yellow safety vest and surrounded by tow trucks with flashing lights, Mastriano highlighted the color of the lights – blue, instead of orange or yellow – which was made possible by the new law.
"Enabling tow truck drivers to use blue lights will protect roadside assistance workers as they help stranded drivers," Mastriano said. "We want our tow truck drivers to make it home to their families at the end of the day."
Mastriano introduced the bill that became Act 157 of 2022 and made it legal for tow trucks to install blue flashing lights in place of their old yellow or orange lights.
Mastriano cited studies conducted by the Texas Department of Transportation and University of Michigan showing drivers routinely ignored yellow or orange lights. Blue lights elicited a better response from drivers, are more visible in hazardous conditions and give distracted drivers more time to see and react when approaching a potential accident.
The idea originated when tow truck operator Justyn Arment from Denver, Lancaster County, contacted Mastriano's office about allowing roadside assistance vehicles to install flashing blue lights. Mastriano introduced Senate Bill 1123 in March 2022. The bill was approved by the General Assembly and signed into law on Nov. 3, 2022.
"This is an example of state government responding to the ideas and needs of the people it was established to serve," Mastriano said.
Mastriano and Turnpike officials also used Monday's event to highlight Pennsylvania's existing Move Over Law, which requires drivers approaching an emergency response area to move to the lane farthest away from the accident. Drivers unable to merge into a lane farther away from the emergency response are required to slow down to 20 miles per hour below the posted speed limit.
Mastriano in 2020 introduced legislation that was signed into law creating a new point system for Move Over Law violations and doubled fines for a summary offense.
He announced Monday he is planning to introduce new legislation to have signs placed along Pennsylvania state highways and the Turnpike to remind drivers to slow down and move over. Each sign also would include a tribute in memory of a Pennsylvania resident who tragically lost their life in a roadside accident.
According to the National Highway Traffic Safety Administration, fatal car accidents are more likely to happen during Memorial Day weekend than any other holiday weekend. The American Automobile Association estimates 39.3 million Americans will travel more than 50 miles during the Memorial Day weekend.
Mastriano was joined Monday by Todd Leiss, the Pennsylvania Turnpike Commission's traffic incident coordinator.
Constituents of the 33rd District can learn more about Mastriano by visiting his website at SenatorMastriano.com or following him on Facebook at Facebook.com/SenatorDougMastriano.
Media contact: Josh Herman
717-787-9603