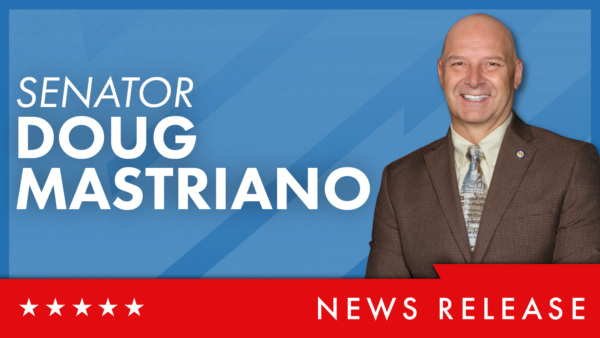 HARRISBURG – Sen. Doug Mastriano (R-33) this week in Harrisburg voted with a majority of his colleagues to approve legislation that would enable Pennsylvania drivers to keep more of their hard-earned money by reducing the state tax they pay on a gallon of gasoline.
"Many Pennsylvania families are struggling to make ends meet due to inflation and higher prices," Mastriano said. "I'm committed to working with my colleagues to reduce the amount of taxes Pennsylvania drivers pay for a gallon of gasoline."
The average wholesale price of gasoline exceeded $2.99 per gallon for the first time in 2022. That triggered an automatic increase in Pennsylvania's gasoline tax of 3.5 cents per gallon and an increase in the tax of diesel fuel of 4.4 cents per gallon.
The legislation approved this week by the Senate – Senate Bill 35 – would lower the price Pennsylvania drivers pay at the pump by repealing those automatic tax hikes.
Pennsylvania families are projected to spend on average nearly $2,500 at the gas pump this year, including approximately $380 in gas taxes per driver.
Pennsylvania currently has the second-highest gasoline tax in the nation, behind only California.
"It is pretty sad when drivers in far-left, liberal states like Massachusetts and New York pay lower gasoline taxes than drivers in Pennsylvania," Mastriano said. "I will continue to fight for gas pump price relief for Pennsylvania drivers by promoting policies to drive down Pennsylvania's exorbitant gas tax."
Mastriano previously introduced legislation – Senate Bill 813 – during the 2021-22 legislative session calling for a six-month gas tax holiday in Pennsylvania. The bill would temporarily cut Pennsylvania's gasoline tax by 26% – or 15 cents per gallon – during the six-month tax holiday. Mastriano's bill would ensure the money lost through the lower gas tax would be recovered through a new, one-time registration fee on plug-in hybrid and electric vehicles, which use Pennsylvania roads and bridges, but largely avoid paying for their upkeep through the state gasoline tax.
"I will continue to speak up for Pennsylvania drivers who are tired of seeing the state government take more and more of their money at the gas pump," Mastriano said.
Senate Bill 35 now heads to the state House of Representatives for consideration.
Media contact: Josh Herman
717-787-4651