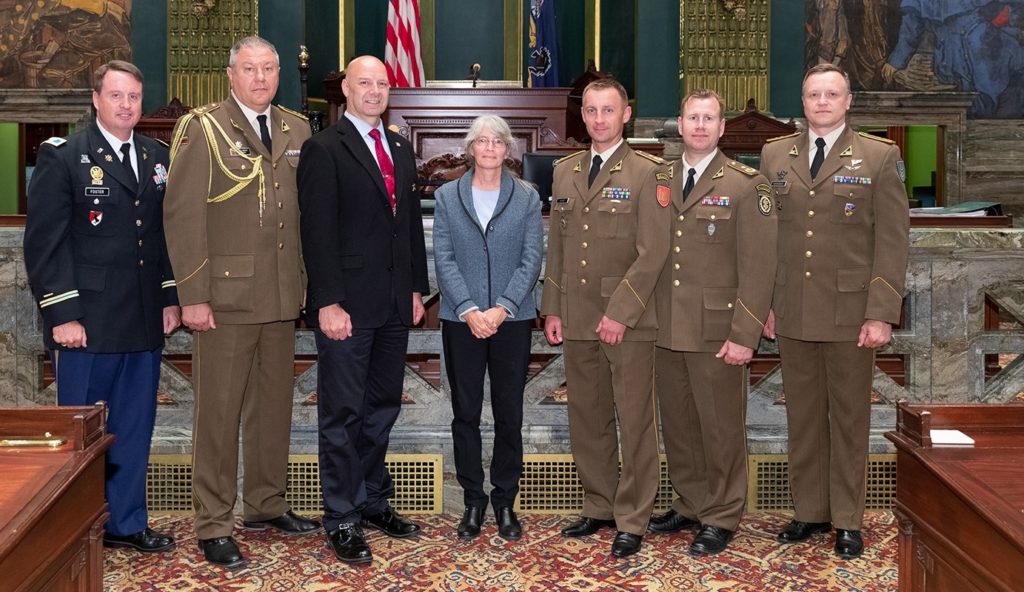 HARRISBURG – The PA Senate unanimously adopted a resolution today introduced by Senator Doug Mastriano (R-33) that recognized the affiliation between the Commonwealth of Pennsylvania and Lithuania.
Overall, the resolution observed the deep ties between Pennsylvania and the Baltic state, with this year marking the 26th anniversary of the partnership between the PA National Guard and the Lithuanian Armed Forces.
"The ties between Lithuania and Pennsylvania are extensive and deep," said Mastriano, noting that "tens of thousands" of Lithuanians immigrated to the Keystone State in the 1800-1900's, with 80,000 remaining here today. "Pennsylvania stands in solidarity with our friends and allies in Estonia, Latvia, and especially Lithuania due to its deep and long relationship with the Commonwealth."
Army Col. Kimo Gallahue, Deputy Commandant of the U.S. Army War College in Carlisle, echoed Mastriano's thoughts.
"The Army War College is honored to support the nation's commitment to working with allies and partners like Lithuania toward common goals," said Gallahue. "Since 2004, 16 officers of the Lithuanian armed forces have studied at the Army War College."
As part of the commemoration, Mastriano welcomed five guests to the Senate floor.
The guests included:
McSherrystown native Lawrence "Gumpy" Bolin, a 96-year-old World War II veteran who served in the 553rd Military Police Escort Guard Company, and participated in the Allied Invasion;
Roots for Boots founder Christine "Christy" Lucas, who created a non-profit charitable organization that supports veterans and military families, predominantly in rural areas;
Lieutenant Colonel Gražvydas Liubinas: Deputy Defense, Military, Naval and Air Attaché at the Embassy of Lithuania in Washington, D.C.; and
Lithuanian students attending the U.S. Army War College: Lt. Col. Andrius Paliušis, Lt. Col. Aurelijus Motiejunas, and Lt. Col. Gintaras Koryzna.
CONTACT: Scot A. Pitzer; 717-787-4651; spitzer@pasen.gov