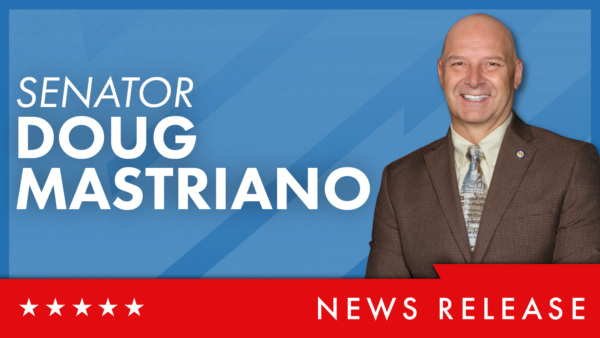 By. Sen. Doug Mastriano (R-33)
During the past few weeks, publications across the commonwealth have chosen to view with rose-colored glasses the past eight years of Gov. Tom Wolf's tenure in Pennsylvania.
Most Pennsylvanians outside of the Harrisburg bubble remember it differently.
Let's start with Wolf's handling of the budget. He likes to take credit for the current budget surplus. What he doesn't disclose is that all annual budgets are approved by the General Assembly. Republicans held the line on Wolf's budget proposals that would have inflated the budget and hiked taxes. For instance, he called for a 6% spending increase in 2020. In his last proposed budget, he wanted a 10.9% increase in spending. This would have resulted in a $1.3 billion deficit for the 2023-24 fiscal year and a $13 billion deficit by 2026-27. Pennsylvania's fiscal house is in order because of smart stewardship of taxpayer dollars in the General Assembly.
Wolf did his best to stifle economic growth and job growth. He proposed 14 tax hikes throughout his tenure, including a $4.6 billion tax hike in his first budget address. He used unelected bureaucrats to create costly regulations on businesses, entrepreneurs and non-government schools.
Wolf did all he could to stifle one of Pennsylvania's most promising paths to economic prosperity, energy production. One of his first acts was a mortarium on drilling leases on state lands. Almost every single one of his budget proposals included a tax on natural gas companies. These thankfully were thwarted by the General Assembly.
Wolf's parting gift to the people of Pennsylvania was his unilateral decision to join the commonwealth into the Regional Green House Gas Initiative (RGGI). This northeast version of the Paris Climate Accords will cost the people of Pennsylvania an estimated $461 million dollars a year and quadruple energy bills. RGGI is projected to result in skyrocketing energy costs, plant closures and job loss on a mass scale.
With the ongoing war in Ukraine, Pennsylvania could have been positioned to be a premier natural gas exporter. Instead, Wolf's war against Pennsylvania energy turned away prospective investments. Imagine how strong our economy would be if there was growth in our energy sector.
Wolf's most damaging legacy, however, was his handling of the COVID-19 pandemic. He exercised unprecedented authority during the crisis to shutter small businesses, declare essential and non-essential jobs, shut down schools, impose unilateral restrictions on commerce, keep people in their homes, spend public resources without the approval of the people and restrict the very freedoms we hold dear.
The governor's measures widened the gap between the haves and the have nots in our commonwealth. Big corporations were never forced to shut down and instead profited off the closure of their competition. Wealthier parents were able to place their children in private schools or hire tutors. Under Wolf, the rich became richer and the poor became poorer.
Meanwhile, we still see the many empty storefronts in our communities that used to be home to small businesses. Students from low-income households, especially those without the means to pay for high-speed internet access, fell behind their peers in the world of virtual classrooms.
On March 18, 2020, the Wolf administration issued the now famous directive to long-term care facilities to accept COVID-positive residents after release from hospitals. The ensuing fallout from the March 18 directive was predictable and tragic. This exposed our commonwealth's most vulnerable residents to severe illness and death. By May, cases of the virus in nursing homes spread like wildfire. Roughly two-thirds of COVID deaths then were residents of long-term care facilities. In several counties, 100% of all COVID deaths at the time were in these very facilities.
Around the nation, we saw examples of other governors who took a different path to dealing with the pandemic. In Florida, Gov. Ron DeSantis followed the science by protecting those in nursing homes and prioritizing the vulnerable for care and personal protective equipment distribution. He re-opened businesses and schools well before Pennsylvania. In September 2020, he lifted all capacity restrictions on small businesses and required all school districts to offer in-class instruction.
Florida's economic output in 2020 shrank by only approximately 3% while Pennsylvania's shrunk by 4.4%. The current unemployment rate in Florida is 2.6% compared to 4% in Pennsylvania.
In May 2021, the people of Pennsylvania had enough and voted to limit the governor's emergency declaration powers. Never again shall a governor have unilateral power to mandate edicts without the General Assembly. The power was rightfully returned to the people and their representatives in the General Assembly.
Wolf's record-breaking 60 vetoes throughout his eight years was emblematic of his refusal to work with others. Among those vetoes include commonsense bills to limit parole for violent offenders, ban discrimination against the unvaccinated, increase transparency in school curriculum and expand scholarship programs for poor families to escape failing schools. He even vetoed legislation that would have protected women's rights not to be oppressed by male patriarchal domination in sports.
The new administration can chart a different path. Will Gov. Josh Shapiro work with the General Assembly or will he act unilaterally? Time will only tell.
Bio: Doug Mastriano is senator for Pennsylvania's 33rd District. Prior to his election, Mastriano served 30 years in the U.S Army before retiring as a colonel.
Media contact: Josh Herman
717-787-4651