In this Update:
Move over. Slow down. Save lives.
Protecting Monuments from Vandalism
Providing Support to Fire & EMS Agencies
New Law makes Notarization Easier and Efficient
Merging and Streamlining State Government Operations
---
Move over. Slow down. Save lives.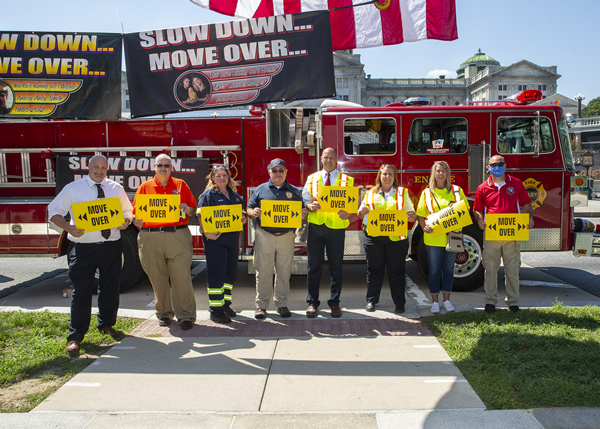 Along with first responders and Chambersburg Mayor Walter Bietsch, Senator Mastriano advocates for the passage of Senate Bill 1281 during a First Responder Rally in September.
Legislation that I sponsored to better protect tow truck drivers, law enforcement and other first responders was recently signed into law as Act 105 of 2020.
In addition to adding stiffer penalties and raising public awareness, Senate Bill 1281 rebrands the "Steer Clear Law" as the "Move Over Law" to clarify how motorists should react when approaching or passing an emergency response area. The law takes effect April 27, 2021.
We took action after the grim statistics showed that we have a problem in Pennsylvania. Our committed men and women are constantly facing an unnecessary danger, in jobs that are already risky.
Enactment of this bill, with new penalties and a new name, will send the message: move over.
Senate Bill 1281 establishes a new point system for a "Move Over" violation; doubles the fines for a summary offense; strengthens public awareness by requiring PennDOT to educate the public throughout the year; and implements new requirements for drivers approaching an emergency response area.
There are more than 350 reportable traffic crashes in Pennsylvania every day that put first responders in harm's way. Already in 2020, 40 first responders have been killed nationwide while working roadside incidents: 16 law enforcement, 17 tow truck operators, 1 mobile mechanic, 3 fire/EMS personnel and 3 Safety Service Patrol Operators. Unfortunately, these numbers include two Pennsylvania first responders: Tow Operator/Firefighter Tyler Laudenslager and Paramedic Matt Smelser.
WATCH: Senator Mastriano urges Senate colleagues to support Senate Bill 1281.
Protecting Monuments from Vandalism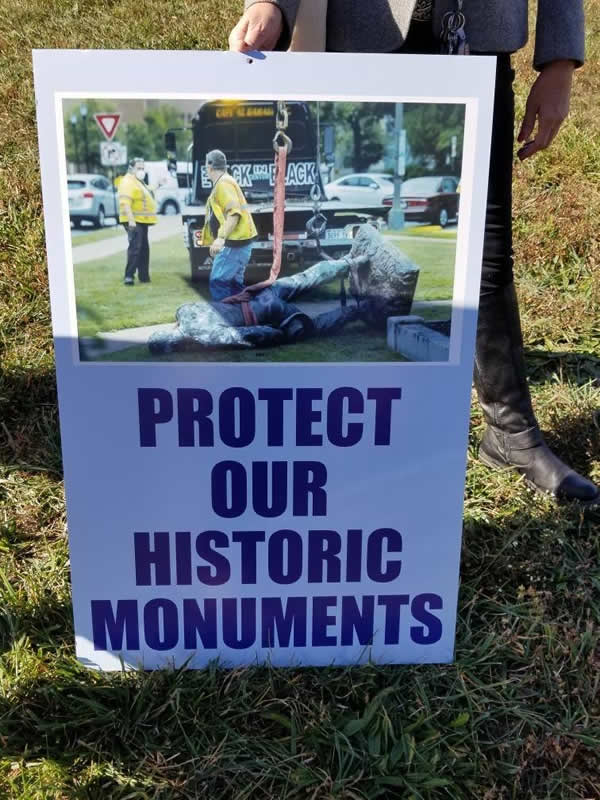 Senate Bill 1321 will protect monuments from vandalism in Pennsylvania.
Citizens have the right to peacefully protest for their beliefs – but in no society should the routine desecration of historic monuments, memorials and markers become acceptable.
During a recent news conference in Gettysburg at the Eternal Peace Light Memorial, I introduced legislation, Senate Bill 1321, aimed at protecting Pennsylvania monuments from vandalism.
With this legislation, Pennsylvanians are standing up to the masked cowards who, often under the cover of darkness, seek to erase our history and impose their beliefs on the majority.
In 2020 alone, extremists have desecrated a monument to World War I veterans in Pittsburgh, defaced a statue of Philadelphia abolitionist Matthias Baldwin and vandalized the Tomb of the Unknown Soldier of the American Revolution. Groups have also vandalized memorials to George Washington and Ulysses S. Grant, the leader of the Union Army during the Civil War.
Senate Bill 1321 will:
Withhold state funding from municipalities and local governments that refuse to uphold laws protecting public monuments, memorials and statues from destruction or vandalism;
Require the state Attorney General to prosecute cases of monument vandalism when a district attorney refuses to prosecute; and
Strengthen penalties and require restitution for vandalizing monuments in Pennsylvania.
Providing Support to Fire & EMS Agencies
A popular fire and EMS grant program has been re-authorized until 2024, as a result of legislation that I helped champion.
The bipartisan package of reforms to improve emergency services in Pennsylvania was recently signed into law as Act 91 of 2020.
The package included language from a measure that I introduced, Senate Bill 910, which reauthorizes the statewide Fire & EMS Gant Program for another four years.
It never ceases to amaze me how our heroes are able to stretch these dollars and make such a good use of this program.
The $30 million program is funded via gaming and property tax dollars. Annually, the program has provided grants of up to $14,000 to fire companies, and nearly $7,000 to EMS agencies for a wide variety of projects.
New Law makes Notarization Easier and Efficient
The notarization process in Pennsylvania will become much easier, straight-forward and save everyone valuable time as a result of legislation I worked to enact, Act 97 of 2020.
It mirrors legislation that I sponsored, Senate Bill 1097, that builds on recent legislative efforts authorizing remote notarization, as part of Act 15 of 2020. However, those provisions expire 60 days after the COVID-19 Emergency Declaration is lifted.
Rest assured, the new law does not replace notaries or the services they provide. Rather, the bill authorizes the use of secure and reliable technology to assist notaries in performing their duties. The legislation is user-friendly and provides notaries with an additional tool to authenticate documents.
As part of the law, a notary public is still required to confirm an individual's identity and reasonably identify records, and an audio-visual recording of the notarial act and all related interactions is required. The bill helps business travelers, family members working out of state and military personnel on deployment.
Merging and Streamlining State Government Operations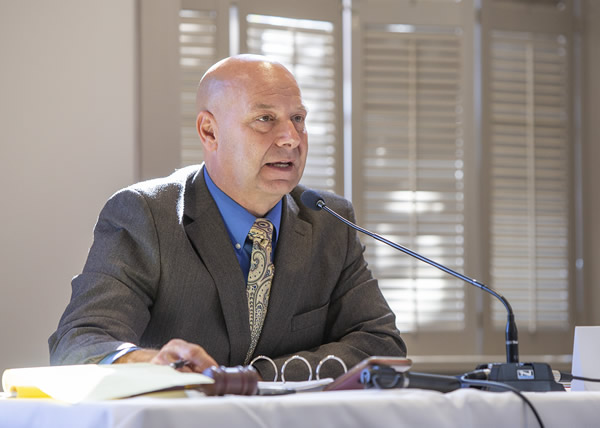 Senator Mastriano chairs an Intergovernmental Operations Committee hearing on streamlining government.
Since being named the chair of the Senate Intergovernmental Operations Committee, I have had the panel focus on reducing red tape, enhancing government transparency and streamlining the bureaucracy.
The committee recently held a hearing on streamlining government at the Franklin County Visitors Bureau.
Legislation under review by committee members, Senate Bill 1131, would merge the Department of Labor & Industry with functions from the Department of Community & Economic Development and the Department of State.
As a result of the COVID-19 pandemic, we have a fragile economy, dwindling state revenues and families that have cut costs. Pennsylvanians have made tough choices, lawmakers should too.
Government consolidation is popular lingo that we hear all the time, but we see very little action. I am constantly hearing frustration by constituents regarding the inordinate size of our state government, and the bloated number of bureaucracies that we have in Pennsylvania.
Panelists participating in the hearing included Franklin County Visitors Bureau Executive Director Janet Pollard; National Federation of Independent Businesses State Legislative Director Rebecca Oyler; Joint State Government Commission Executive Director Glenn Pasewicz; Downtown Chambersburg President Sam Thrush; Franklin County Area Development Corporation President Mike Ross; Adams Economic Alliance President Robin Fitzpatrick; and New Oxford Chamber of Commerce board member Chad Collie.