In this Update:
Mastriano Demands Biden Administration End COVID-19 Lockdowns at VA Medical Centers
Parental Bill of Rights Hearing on Tuesday, Oct. 18
Voter Registration Deadline is Oct. 24
Protecting Yourself from Cybercriminals
Families Can Begin Applying Now for 2023-24 College Aid
Schools have Until Friday to Apply for Farm-to-School Grants
Statewide Litter Clean-up Efforts Underway
---
Mastriano Demands Biden Administration End COVID-19 Lockdowns at VA Medical Centers
Sen. Doug Mastriano (R-33) said today the federal government must relax visitation policies that keep seniors living inside Veterans Administration Medical Centers in solitary confinement.
"COVID-19 restrictions ended long ago for the majority of society," Mastriano said. "The president himself deemed the pandemic over, yet many of our veterans still live an imprisoned existence, without the comfort of their family and friends due to bureaucratic fearmongering."
In a letter to President Joe Biden and Department of Veterans Affairs Secretary Denis McDonough, Mastriano highlighted restrictive policies at a VA facility in Wilkes-Barre that require brief pre-scheduled appointments and prevent families from visiting inside a resident's room or witnessing the level of care received.
Worse still, residents at VA Medical Centers haven't ventured into the community or visited with volunteers in nearly three years. This stands in stark contrast to the relaxed guidelines at state-run nursing homes that have long recognized the critical role family, social and community connections play in maintaining quality of life in our golden years.
"It's cruel and despicable to isolate these brave men and women who have already sacrificed so much for our country," Mastriano said. "The Biden administration must act immediately to reverse these harmful policies and restore some semblance of normalcy for our veterans so they can re-establish the family bonds we all hold dear."
Mastriano's letter follows a similar appeal from Pennsylvania Treasurer Stacy Garrity.
Parental Bill of Rights Hearing on Tuesday, Oct. 18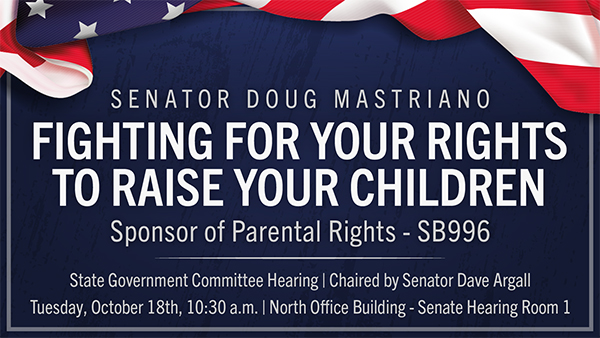 The Senate State Government Committee will convene at 10 a.m. on Tuesday, Oct. 18 to discuss legislation that will establish a Parental Bill of Rights in Pennsylvania, said Sen. Doug Mastriano (R[1]33).
"I sponsored Senate Bill 996 after watching government bureaucrats usurp the rights of parents and guardians to safeguard and direct their children's upbringing," Mastriano said. "If the last three years have taught us anything, it's that we can longer take for granted the assumed rights we hold as parents."
Testifiers include medical, legal and advocacy specialists who will share their valuable perspectives on the impact of Senate Bill 996 and its effectiveness in preserving parental rights.
The committee also invited U.S. Assistant Secretary for Health Admiral Rachel Levine, who led Pennsylvania's Department of Health from 2018 until 2021, to share her insights as a widely recognized authority in pediatric medicine.
"It is my sincere hope that Secretary Levine will join us for this important hearing," Mastriano said. "Her public health experience, at both the state and federal level, will no doubt inform her testimony and offer insight into this issue in a way that few others can."
The committee will convene at 10:30 a.m., following a voting meeting, in Hearing Room 1 at the State Capitol's North Office Building in Harrisburg. The hearing will also be livestreamed at PASenateGOP.com.
Voter Registration Deadline is Oct. 24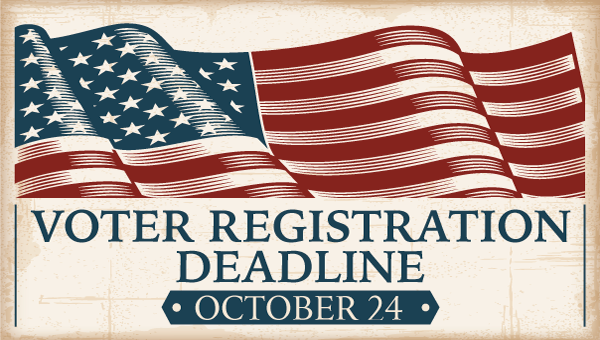 Monday, Oct. 24 is the last day to register for the Nov. 8 general election.
You can submit your application:
If you are on active duty in the military, or you are a hospitalized or bedridden veteran, you can register at any time. See www.fvap.gov for more information.
Polls are open on election day from 7 a.m. to 8 p.m. The last day to request a mail-in or absentee ballot is Nov. 1. If you have any questions, you can call 1-877-VOTESPA (1-877-868-3772).
Protecting Yourself from Cybercriminals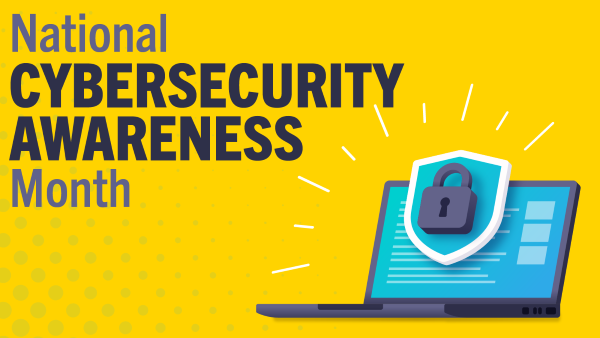 October is Cybersecurity Awareness Month, a good time to brush up on the tips for staying one step ahead of criminals intent on stealing your personal information and committing other online crimes.
There are four easy ways to protect yourself online:
Think Before You Click: If a link looks a little off, think before you click. It could be an attempt to get sensitive information or install malware.
Update Your Software: If you see a verified software update notification, act promptly and turn on automatic updates.
Use Strong Passwords: Use passwords that are long, unique and randomly generated. Use password managers to generate and remember different, complex passwords for each of your accounts. A passwords manager will encrypt passwords, securing them for you.
Enable Multi-Factor Authentication: You need more than a password to protect your online accounts, and enabling MFA makes you significantly less likely to get hacked.
You can find more detailed information on these and other cybersecurity issues in this Cybersecurity and Infrastructure Security Agency public toolkit.
Families Can Begin Applying Now for 2023-24 College Aid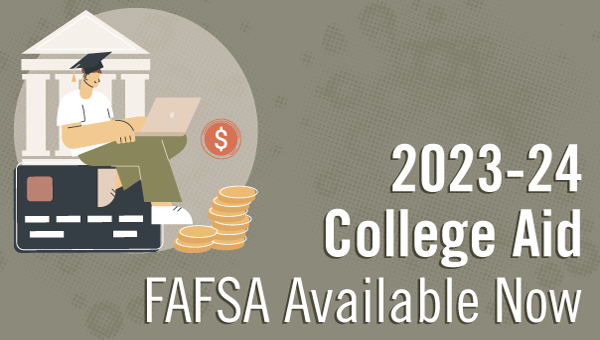 PA college students have left millions of dollars in aid on the table by not completing their Free Application for Federal Student Aid (FAFSA). Families can get a head start on the 2023-24 FAFSA now.
The FAFSA is an application required to apply for federal student aid such as federal grants, work-study and loans to help pay for college. To apply and qualify for a Pennsylvania state grant, learners must have their FAFSA on file as well.
The high school class of 2021 left behind an estimated $3.75 billion in Pell grants nationwide by not completing the FAFSA – dollars that students do not have to repay. The General Assembly approved a $220 million increase in funding for higher education institutions in the 2022-23 state budget.
Schools Have Until Friday to Apply for Farm-to-School Grants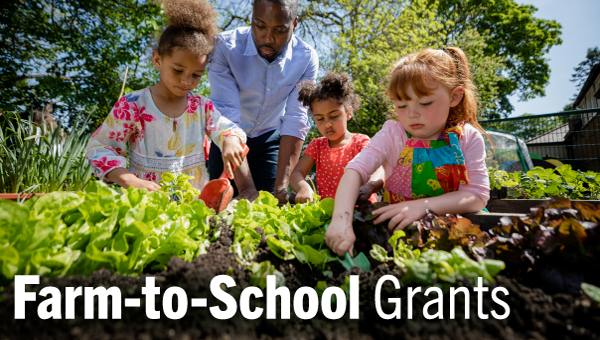 Schools have until 5 p.m. Friday to apply for Farm-to-School Grants aimed at improving access to healthy, local foods and increasing hands-on learning experiences for children.
The Pennsylvania Farm Bill Farm-to-School Grant Program strengthens the connection between families and local producers of fresh, healthy food, increases access to markets for local farms, and exposes children early to agriculture, agriculture careers and healthy food choices.
Any school district, school, charter school, private school, or center with prekindergarten, kindergarten, elementary, or middle school classes through eighth grade that participates in a Federal Child Nutrition Program is eligible to apply.
Projects should identify local farmers to supply fresh, in-season products to support educational programming, or cultivated their own school gardens.
Statewide Litter Clean-up Efforts Underway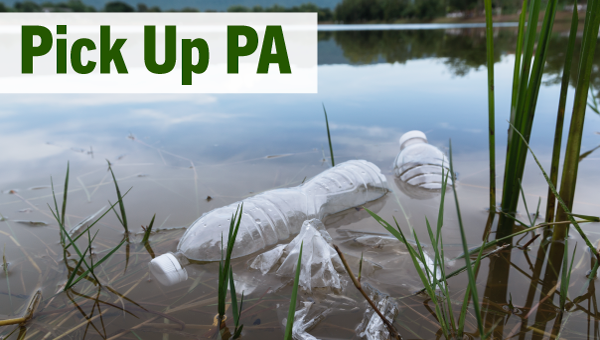 The annual Pick Up Pennsylvania fall campaign is underway and runs through Nov. 30. Individuals, families, neighbors, students, civic organizations and local governments are invited to participate in this anti-litter effort.
The Pennsylvania Department of Transportation spends nearly $14 million a year cleaning up litter along state roadways. This money could be better spent on maintaining and improving our transportation network.
Residents can use this Events Calendar to join Pick Up Pennsylvania cleanup events in their community. Those who'd like to register their own local cleanup event can do so at Organize an Event. Registered events are provided with free trash bags and gloves.
During the 2021 Pick Up Pennsylvania fall campaign, nearly 14,000 volunteers canvassed their communities to remove 745,380 pounds of trash and 99,200 pounds of tires from lands, waterways and coastal regions.