In this Update:
Mastriano and Gebhard Introduce Legislation to Strengthen Election Security with Constitutional Amendments
Mastriano to Introduce Legislation Banning Drag Shows That Appeal to Minors
Report Tracks College Savings Accounts in Rural and Urban Counties
How to File PA Income Tax Returns Online
Federal Fire, EMS Grant Program Closes Feb. 10
Educational Gratuity Program Helps Children of Fallen Military Members
Entries Accepted for Statewide "Art of the State" Exhibition
Watch PA Wildlife Anytime from Home
---
Mastriano and Gebhard Introduce Legislation to Strengthen Election Security with Constitutional Amendments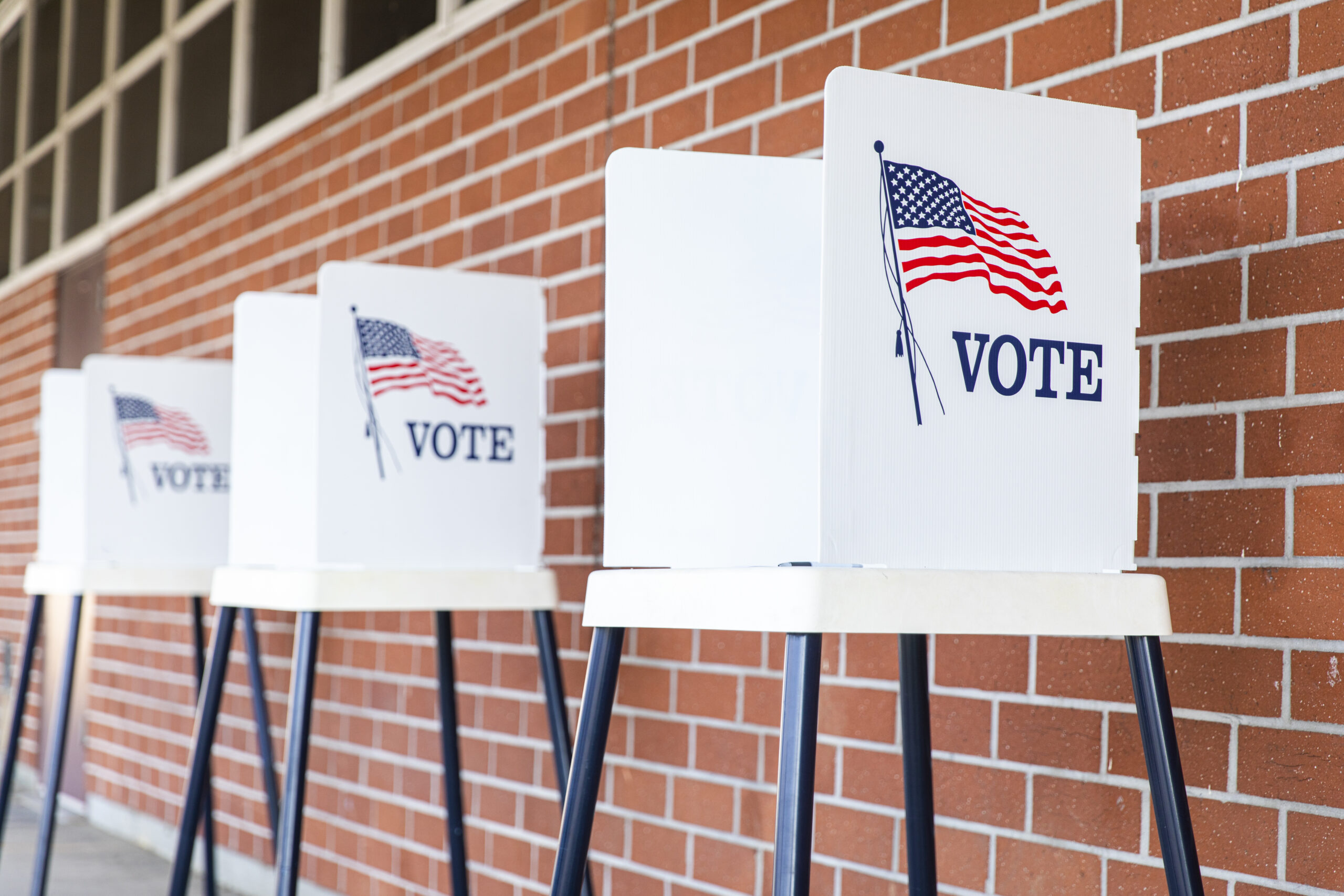 HARRISBURG – Sens. Doug Mastriano (R-33) and Chris Gebhard (R-48) today introduced legislation, Senate Bill 292, that would enable voters to decide through a ballot referendum if the state Constitution should be amended to include several new election security reforms.
"Our current election laws are susceptible to unconstitutional changes that weaken their election security safeguards," Mastriano said. "Millions of voters around our state have expressed skepticism about the security of our elections going forward. Significant doubt in the validity of a person's vote has serious repercussions for our republic. The legislation we introduced would allow the people of Pennsylvania to have the final say on these important election security measures."
If the constitutional amendments are approved by voters, the proposal would eliminate "no-excuse" mail-in voting, establish a mandatory deadline for mailed ballots to be received by 5 p.m. on the Friday before Election Day, impose a mandatory signature verification for all mailed ballots., and eliminate the permanent mail-in and absentee voter list.
"The Pennsylvania Department of State did not implement previous election provisions as they were intended by the democratically elected General Assembly," said Gebhard. "For instance, in-person voters and mail-in voters should be treated equally, and signature verification is a must. Everyone must be treated equally under the eyes of the law. There cannot be less stringent rules for mail-in voters than for the folks who show up at the polls. I am eager to have the citizens of the commonwealth weigh in on this subject."
Mastriano and Gebhard introduced Senate Bill 292 in an effort to repeal some of the provisions in existing election law created through Act 77.
Sens. Scott Hutchinson (R-21), Pat Stefano (R-32), Judy Ward (R-30) and Cris Dush (R-25) all have signed on as co-sponsors of the legislation.
The bill must be passed by the Senate and House of Representatives during two consecutive sessions for the constitutional amendments to appear on the May 2025 ballot.
The governor cannot veto legislation like Senate Bill 292, which seeks to amend the state constitution.
The bill has been referred to the Senate State Government Committee where it will await a vote.
Mastriano to Introduce Legislation Banning Drag Shows That Appeal to Minors
Harrisburg- Today, Senator Doug Mastriano (PA-33) announced that he will soon introduce a bill to ban drag shows on public property or in areas that can be seen by minors.
In Pennsylvania, there has been an alarming uptick in drag performances that appeal to children. In April 2022, parents at a school district in Lancaster were shocked to learn about after-school X-rated drag shows occurring on school property. In October 2022, a sexually charged drag show for audience members as young as 13 was performed at the Rainbow Room in Bucks County.
Mastriano's legislation will classify drag shows as an "adult-oriented business" under Title 68. As an adult oriented business, commonsense limits would have to be considered that protect minors. This includes location of performance, age of the intended audience, etc.
"It is disheartening that legislation like this is needed," said Mastriano. "Parents have a right to know their children are not being exposed to sexually charged content in a public forum. Drag shows that cater to minors on school property, libraries, and other public places should not be accepted in any functioning society. My legislation will ensure that this is no longer occurs in the commonwealth of Pennsylvania."
Report Tracks College Savings Accounts in Rural and Urban Counties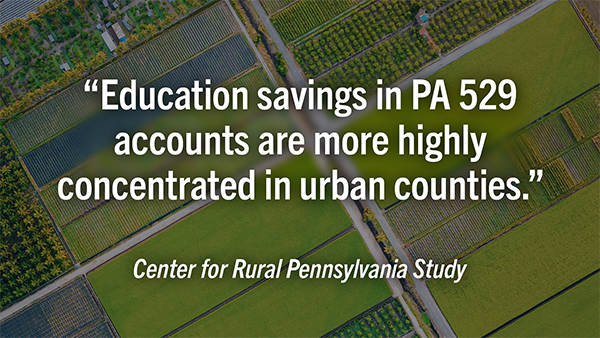 A new report from the Center for Rural Pennsylvania and the Pennsylvania Treasury Department evaluated trends in post-secondary education savings accounts, also known as PA 529 accounts.
PA Treasury offers two PA 529 plans: the PA 529 Guaranteed Savings Plan (GSP), which allows families to save at today's tuition rates to meet tomorrow's tuition costs, and the PA 529 Investment Plan (IP), which offers a variety of investment options.
The report examined differences between rural and urban Pennsylvania beneficiaries in the amount of savings, consistency of contributions and types of accounts opened. Key findings:
Education savings in PA 529 accounts are more highly concentrated in urban counties.
More than 60% of all contributions in PA 529 accounts between January 2018 and March 2022 went to Investment Plan accounts in urban counties.
A sharp increase in contribution amounts occurred in the third and fourth quarters of 2021, with Investment Plan contributions rising more than 30% from inflation-adjusted prior-year values.
Rural beneficiaries received an average $56 less per quarter than their urban counterparts – even after controlling for income, education and age.
The Treasury Department is increasing rural outreach to promote college savings. You can watch a discussion of the findings here.
How to File PA Income Tax Returns Online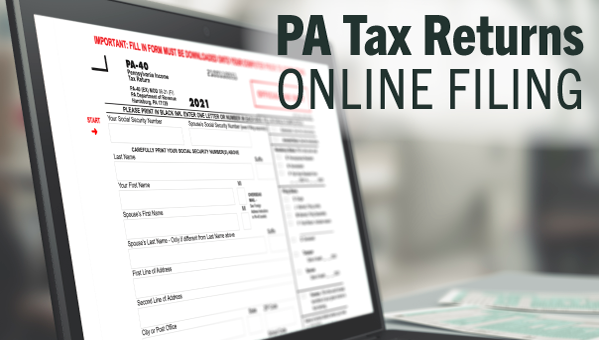 Tax-filing season has opened, and the state Department of Revenue reminds taxpayers of the free online option to file their Pennsylvania personal income tax returns: mypath.pa.gov.
Taxpayers do not need to create a username or password to perform many functions in myPATH. That includes filing the Pennsylvania Personal Income Tax Return (PA-40), making a payment, responding to department requests for information and checking the status of a refund.
The deadline to submit 2022 personal income tax returns is April 18. Personal income tax assistance is also available through the department's Online Customer Service Center and by calling 717-787-8201 between 8:30 a.m. and 5 p.m., Monday through Friday. Taxpayers may also visit a Department of Revenue district office for state personal income tax filing assistance.
Federal Fire, EMS Grant Program Closes Feb. 10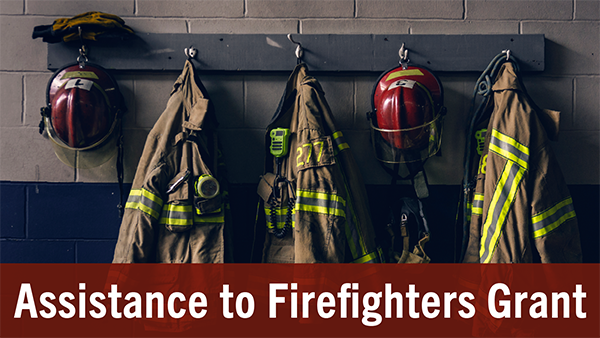 Fire departments and non-affiliated EMS organizations have until Feb. 10 to apply for federal grants for equipment, protective gear, emergency vehicles, training and other resources.
Administered by the Federal Emergency Management Agency, the Assistance to Firefighters Grants Program helps firefighters and other first responders obtain critically needed resources necessary for protecting the public and emergency personnel from fire and related hazards.
Fire and EMS organizations can find an application checklist, a rundown of recent program changes, Frequently Asked Questions, videos and more here.
Educational Gratuity Program Helps Children of Fallen Military Members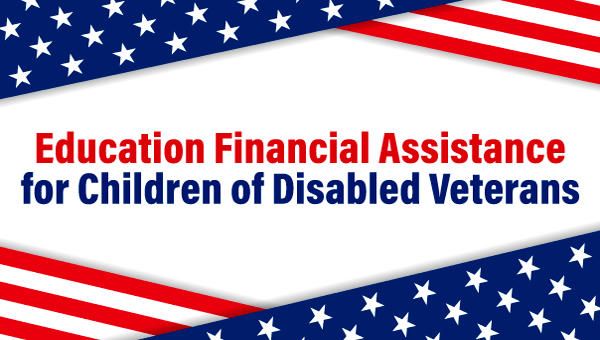 We owe a debt of gratitude to Pennsylvanians who served in the military, especially those disabled or killed during conflict. Part of paying that debt is helping to care for the impacted families.
The Educational Gratuity Program provides education financial assistance for children of honorably discharged veterans with service-connected disabilities who served during war or armed conflict, or children of veterans who died during war or armed conflict.
Children of eligible veterans must be between the ages of 16 and 23, living in Pennsylvania five years prior to application and attend a school within the commonwealth. You can read more about eligibility and applying here.
Entries Accepted for Statewide "Art of the State" Exhibition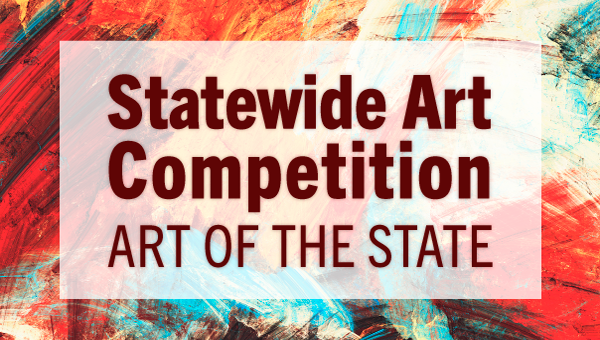 Artists and craftspeople are invited to submit applications to show their work in the 56th annual "Art of the State" exhibition.
"Art of the State" is a juried exhibition open to Pennsylvania residents at least 18 years of age. Artists will compete in five categories: painting, work on paper, sculpture, craft, and photography and digital media. Entries must be submitted online. Additional information and the link to enter are available at statemuseumpa.org/artofthestate. The application deadline is May 5.
More than $4,000 in cash awards will be presented. "Art of the State" is scheduled to open to the public at The State Museum on Sept. 10.
Watch PA Wildlife Anytime from Home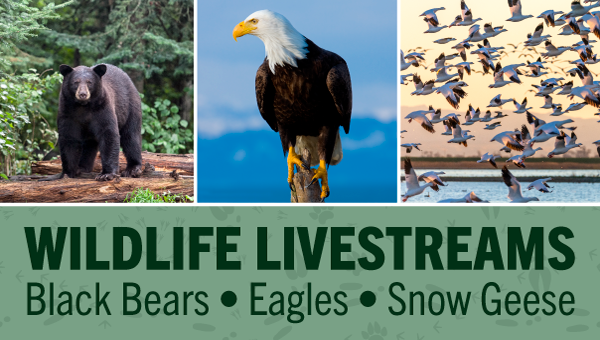 You can watch black bears, eagles and snow geese this winter through the Pennsylvania Game Commission's round-the-clock livestreams.
A new 24-7 livestream from a black bear den in Pike County brings to four the number of livestreams the Game Commission plans to run into the spring of 2023. Also showing are the Farm Country Eagle Livestream, which provides a bird's-eye view into a long-established nest in a giant sycamore overlooking scenic farmland, the popular Hanover, Pa. Eagle Livestream and the agency's Snow Goose Livestream capturing the migratory action at Middle Creek Wildlife Management Area.
Pennsylvania's black bears usually are born in January and begin walking in about eight weeks. They leave the den when three months old. Bald eagles typically lay eggs in mid-February and the eggs hatch in mid- to late March. Snow goose migration typically peaks at Middle Creek from mid-February to March.